_
TEMET
Medical Tourism Fair
TEMET-2023 will be at Antalya, Turkey in Awandor Hotels & resorts Topkapi palace on February 8-11, 2023; It is a Health Tourism event organized by the associations of Antalya, Istanbul, Izmir, Bursa, Elazig, and Diyarbakir and by Bookingsmed Italy Representative and ITALIAN ASSOCIATION OF MEDICAL TOURISM (AIPTM).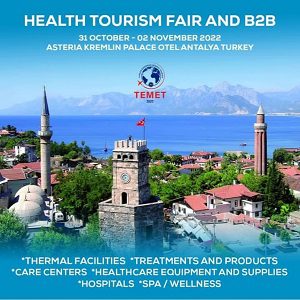 TEMET-2022 is an organization established to provide health tourism mobility between Turkey and European countries, promote health tourism services and activities between countries, and develop international cooperation in the sector.
Its purpose is to introduce Turkey's strong infrastructure into health tourism around the world, especially in European countries. In this health tourism fair, which has international participation and importance;
The participation of non-governmental organizations, intermediary health tourism institutions, health facilities, and professionals from many countries operating in a broad region will be ensured.
The organization, which was to be held in 2020, has been postponed due to the pandemic that has hit the world and will be held in Antalya, a major tourist destination in the region and the world, as the pandemic loses its effects and international health services they begin to gain momentum again. In this prestigious international organization, numerous health structures, intermediary institutions, NGOs, and professionals operating in the health tourism sector from all over the region will join, and new collaborations and joint commercial activities will be born with the connections that will be established in this organization. As TEMET, we are proud to host such an organization and we wish to see all our stakeholders in this beautiful organization.
contact us: +989913810421